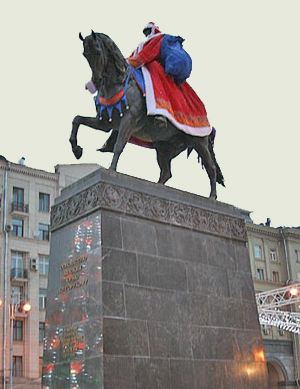 Monument to Yuriy Dolgorukiy – legendary founder of the city – for the time of every New Year celebration is dressed up as Father Frost – Russian analogue of Santa Klaus.
Moscow City Hall, No.13 Tverskaya Street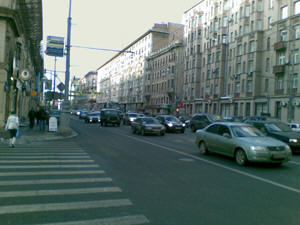 First Tverskaya-Yamskaya Street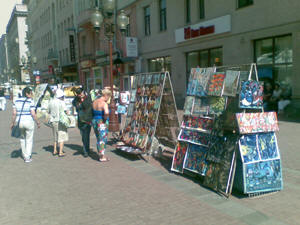 Arbat Street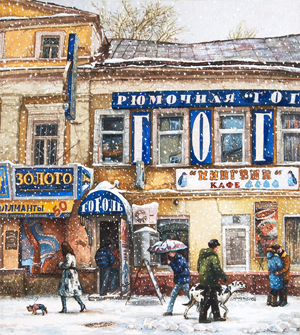 Old Arbat street. Painted by Alyona Dergilyova.
The inscription "ðþìî÷íàÿ" means a "wine-glassary", i.e. a fast-drink bar. Visiting a ryumochnaya, you can drink a wine-glass (ðþìêà [ryumka] in Russian, hence the world "ryumochnaya") of Russian Vodka or cheap but strip Port without any snack. To have a snack you should remove to a zakusochnaya (çàêóñî÷íàÿ) or "snackary".
This ryumochnaya "Ãîãîëü" is named after the Great Russian writer, novelist, humorist, and dramatist Nikolai V. Gogol, who leaved and dead in Moscow just near the Arbat Street. The Russians believe, Gogol liked to visit this ryumochnaya several times a day, scooping inspiration with wine-glasses.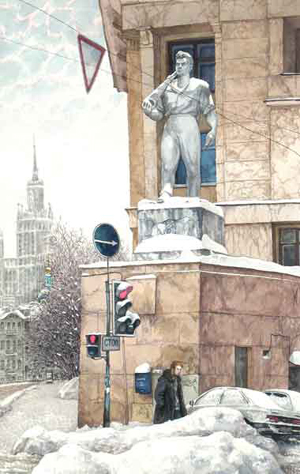 The monuments of Stalin's epocha still remain in Moscow. Painted by Alyona Dergilyova.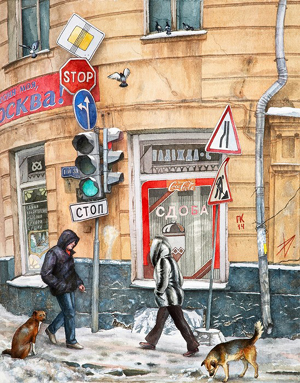 Feral dogs in the street. Painted by Alyona Dergilyova.
There is about a million feral dogs in Moscow. Before the XXII Olympic games which were spent in Moscow in 1980, there were many small individual houses in the city. However by the Olympiad those houses have been taken down, so that the modern multi-stored buildings to be constructed on their sites. The inhabitants of those small houses held sentry dogs, but after the demolition they have been compelled to let the dogs go outdoor. Since then the descendants of those dogs live in the streets.
In a show-window you can see an inscription "Ñäîáà" (Sdoba) which means "fancy bread". The Moscow Sdoba is really very tasty and not unsafe for your health.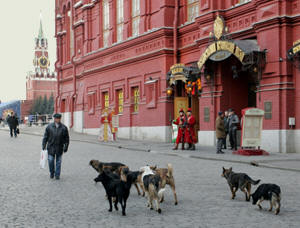 The State Historical Museum.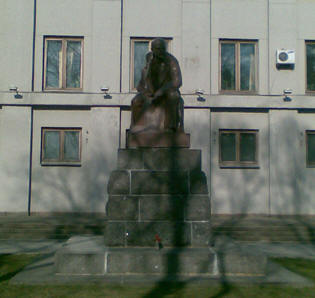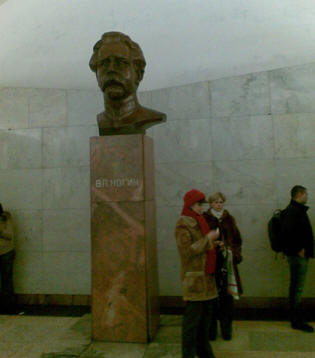 You can find a monument anywhere.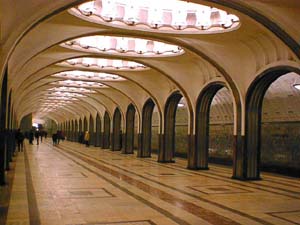 Moscow Metro is the most beautiful subway in the World.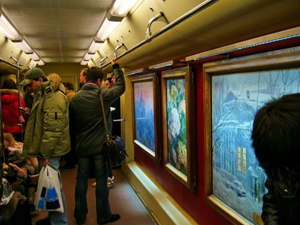 The pictures of some Russian painters are exposed now in the underground trains.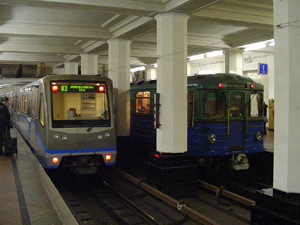 An old train adjoins to a modern one.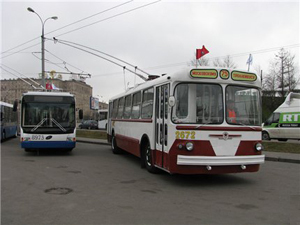 An old trolleybus adjoins to a modern one.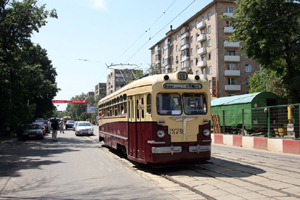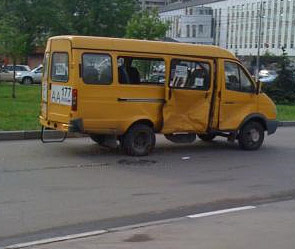 Marshrutka is a Jitney-like mode of transport that falls between private transport and conventional buses. One trip costs 25 rubles. You give money to the driver just having taking the minibus. If you need to take it off, you have to cry: "Îñòàíîâèòå çäåñü!" (Ostanovite zdes, means "Stop here!"). You should cry it in Russian, because none of the Marshrutka-drivers speak any other language and even Russian they speak very bad.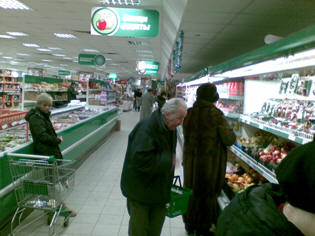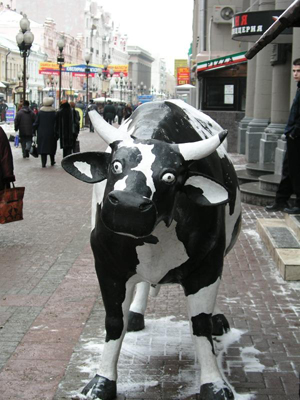 This spotty cow erected in the Arbat Street became a symbol of one of the largest networks of rather cheap restaurants.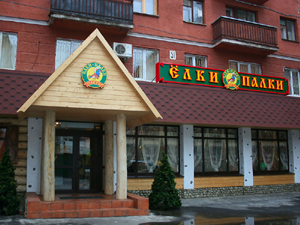 Such kind of restautants you can find anywhere.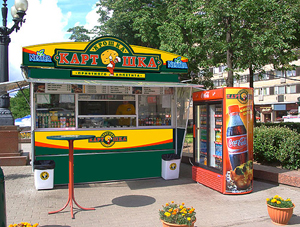 These green kiosks sell stuffed (butter, sour cream or bacon) microwave-baked potatoes, as well as toasted sandwiches and a few drinks. Hot and filling, but rather expensive for what is basically just a hunk of root vegetable.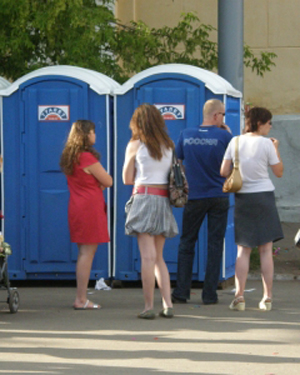 A blue outhouse is the most widespread type of the Moscow public restrooms . A visit costs 15–25 rubles. Besides, they are considered unhygienic...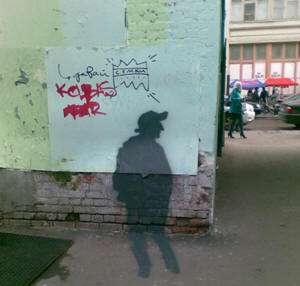 ...Therefore many Muscovites, both men and women, prefer to communicate with nature among the garages.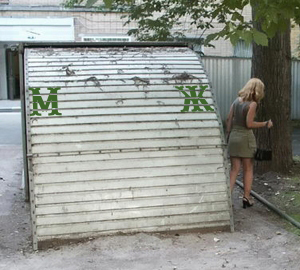 This kind of garages is named "rakushka" (means – a ñockleshell). The stationary garage in Moscow is too expensive, much more expensive than a car. Therefore many Muscovites keep their cars in such portable ñockleshells.

Sometimes this kind of arrow-plates points the nearest toilet. The inscription means: "Free Toilet, Nikitskiye Vorota Square in the beginning of the Tverskoy Boulevard".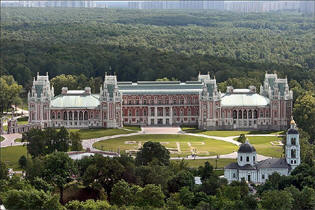 The main palace in Tsaritsino park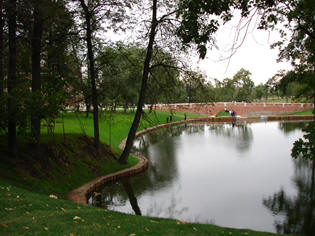 A pond in Tsaritsino park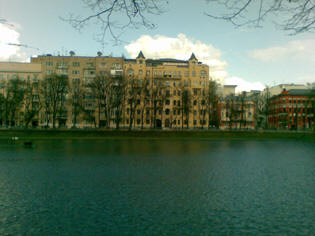 Patriarch Ponds